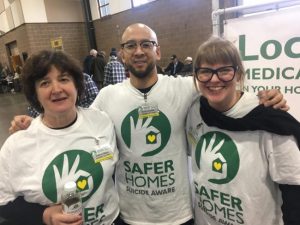 Last weekend, the Puyallup Gun Show brought together suicide prevention advocates and the firearms community. Nearly 300 people held conversations with the Safer Homes, Suicide Aware team at the Washington Arms Collectors event at the Washington State Fairgrounds. Participants learned that firearm and medication locking devices can save a life from suicide.
The event transformed hearts and minds, said Kathleen Gilligan. She and 14 other volunteers distributed nearly 600 free items along with a public health message: Locking and limiting access to medications and firearms can save a life long before a suicidal crisis occurs.
Gilligan spoke with a veteran who insisted he had no need to lock up his guns. One of his adult children is a police officer, and his grandchildren are well-versed in gun safety. None fit the "type" to die by suicide, the man said.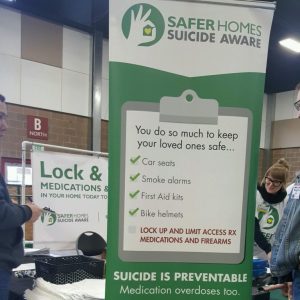 "I quietly told him that my 14-year-old son, a trained marksman and hunter, died by suicide using a firearm," said Gilligan. "His entire expression changed and next thing I knew he was signing up for a free lock box, had worked his way around the table, and was talking about medication safety. I suspect that he will tell others what he learned from Safer Homes at the gun show."
Each participant could choose one firearm locking device (a lock box or firearm life jacket locking safety case) and one medication device (a drug deactivation pouch or medication lock).
Plenty of patrons said they already keep their firearms secured. "When you have seven kids in the house, your way of thinking changes," said WAC member Don Davison, who described the locking protections he uses – including separating holsters, magazines, and ammunition.
However, most participants hadn't thought about suicide as a danger. Many paused for more than a few beats when asked how they would protect a loved one who became at risk for suicide.
Many also learned, to their surprise, that nearly 80 percent of firearm deaths in this state are the result of suicide.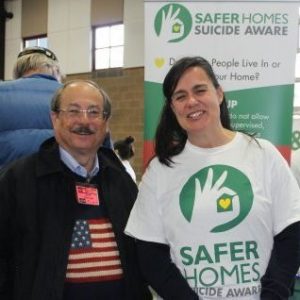 The Second Amendment Foundation and Washington Arms Collectors were instrumental in this event's success. Several manufacturers generously discounted equipment for this campaign, including NW Safe, Mallinckrodt Pharmaceuticals, MSE Worldwide, and Gatekeeper Innovation.
NW Safe also provided a Liberty Safe HDX-350 biometric Smart Vault for a raffle, which Millicent Baxter of Roy, WA won.
"Most gun owners are about gun safety, so this wonderful event will hopefully go a long way in raising awareness to help us prevent suicide," Baxter said.
Safer Homes, Suicide Aware exceeded its goal of distributing 300 free firearm locking devices at its first gun show and now looks forward to taking this life-saving public health message to an Eastern Washington gun show in the spring. To learn more, visit SaferHomesCoalition.org.